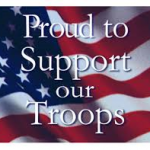 Each Club has been sending a 'care package' to a service person that is known by someone in their club. HCE gets the boxes from the post office and fills them with the products suggested below. Also enclosed is a letter identifying themselves and telling them to please share with other service persons too. Anywhere from two to six boxes are usually sent once a month.
Suggestions of Things to Send Troops (partial suggested list)
Food
Beef Jerky (no pork or pork products)
Chips, trail mix, sunflower seeds
Granola bars, nutrigrain bars, pop tarts, protein bars
Cracker Jack, cookies, instant oatmeal, crackers
Cup O Noodle, instant coffee
Restaurant size condiment packets: ketchup, mustard, mayo, etc.
Toiletries
Soap, baby wipes
Deodorant, sunscreen
Bandaids, lotion
Anti-bacterial/no-water needed soap
Toilet paper, eye drops
Nasal spray, foot powder
Razor refills, toothpaste, chap stick
Miscellaneous
Film for camera or disposable camera
Dominos, boot inserts
Clorox wipes, zip lock bags
Notebook, stationery
Deck of cards
Small electronic games
Envelopes, sunglasses
Fabric softener sheets (to keep clothes fresh)