---
YQCA
The link provided will bring you to the Youth for the Quality Care of Animals webpage where you can complete your training.
www.yqca.org
All Polk County Quality meats participants must complete the YQCA online training in the current year to be eligible for the 2021 Quality Meats Program auction. Exhibitors are strongly encouraged to participate in other online video training for animal programs. Please click on the link in the right hand box to be directed to the YQCA webpage.
---
COVID-19 Animal Project Information

Sheep Committee Meeting Tuesday December 8th at 7pm. This will be a virtual zoom meeting.
2021 Market Steer Weigh-in will occur on Saturday December 5th.
Many changes are required to prevent the spread of Covid-19.
Please read this communication carefully so you understand all the changes and requirements needed for weigh-in
Pre-registration for steer weigh-in is required by filling out the form at this link https://forms.gle/K6vbVxiHd6WRj6kD7
Pre-registration Deadline Monday November 23rd
A new registration entry is required for each youth exhibitor
NO Youth are permitted at weigh-in, ADULTS ONLY
Only one person, the driver, should be in the vehicle with the steers
The driver is required to stay in the vehicle at all times unless indicated by one of the weigh-in Staff
Steers should not be tied by halters in the trailer, steers will be handled loose for weigh-in this year
No paperwork will be handed out on the day of weigh-in to limit contact between participants and volunteers. Required paperwork is available on the website.
Animals and exhibitors must meet all Polk County Quality Meats Guidelines available at the Quality Meats web page. https://polk.extension.wisc.edu/4-h-youth-development/quality-meats/
Participants are required to wear face coverings
UW-Madison Division of Extension faculty, staff and volunteers may require that program participants leave a program, based on health concerns associated with COVID-19.
2020 Dates
Steer Weigh-In Saturday December 5th, 8am-11am, at the Polk County Fair Park Scale Building. PRE-REGISTRATION IS REQUIRED!
Beef Committee Meeting, Thursday December 10th at 7pm. This will be a virtual zoom meeting.

Sheep Committee Meeting Tuesday December 8th at 7pm. This will be a virtual zoom meeting.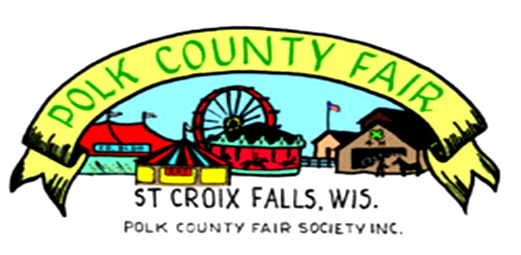 Each year the Polk County Fair has come together with the greater community to provide educational displays, showcase exhibitors, and provide vendors and sponsors an outlet for their businesses. More importantly, it has given our community a place to gather, greet friends, spend time with family, and get caught up on each other's lives.
It is with a heavy heart that the 2020 Polk County Fair, scheduled for July 30th – August 2nd, is being cancelled. With the uncertainty of the COVID-19 pandemic, some hard decisions had to be made in order to keep the community and our fair families safe. As the need to socially distance is quite possibly the exact opposite of the purpose of the fair. The Polk County Fair Board has decided in good conscience that the fair cannot take place this year.
Planning the fair takes a huge investment of time, energy and money. The fair board tries extremely hard to ensure the safety of every person who comes to our grounds every year. But this year the feasibility of keeping thousands of our friends and family safe, weighed heavily on us. The difficulties involved in social distancing, potential of only limited numbers allowed in the gate, and the liability involved, were just some of the challenges we faced.
While the Polk County Fair is cancelled for this year, the fair has determined that any youth exhibitor who is enrolled in a project will be eligible to participate in the 2021 Polk County Fair within the same project area. We will have further details later.
We want to thank all of you for understanding that this was one of the most difficult decisions ever faced by the Polk County Fair Board. In the meantime, we are going to work hard at making the 2021 fair one to remember. We look forward to seeing all of you at the Polk County Fair, July 29th-Aug 1st, 2021. #FairStrong
Section 8 ~ Other Resources
For any other information on Quality Meats please see the Clover Connection Newsletter. The newsletter will list upcoming dates and times of meeting and form deadlines.
Youth wishing to participate in the 2021 Polk County Quality Meats Program must meet all the program requirements:
Quality Meats Requirements

Complete YQCA "Youth for the Quality Care of Animals" online classroom training. Club organizational leaders and co-leaders have more information on YQCA.
Attend a Polk County Quality Meats Kick-Off Meeting
Attend an educational event or sessions

 2021 YQCA – Youth for the Quality Care of Animals (Formerly MAQA)

ALL Quality Meats Exhibitors must bring their printed certificate to paperwork check-in Wednesday at the Fair in the livestock show barn office. check-in concludes at 6pm.
Required on-line course go to yqca.org  and follow directions to register and take course – cost is $12.
Classroom training is available at a cost of $3 at various locations in other counties. Register for these classroom courses at yqca.org
Questions can be directed to your species chair or vice chair.
Instructions on Getting Your YQCA WebBased Certification 
The Polk County Quality Meats kick-off meeting will be announced in the Clover Connection, your email as well as on this website so stay tuned.
---
Livestock Members: From Bernie O' Rourke
Virtual farm tours are now complete, but you may find the videos at the links below:
The playlist of all of the videos on YouTube.
https://www.youtube.com/playlist?list=PLl3EqGUag9cz_1DCKOLL5KSMtwm1SyuKT
These are for kids that are engaged in animals, plants (agronomy) and science STEM. 
Small Ruminant Webinars – Sheep and Goats
a.  https://fyi.extension.wisc.edu/wisheepandgoat/small-ruminant-webinar-series/
b.  May 20, 7:30-9 p.m., Estimated Breeding Values
Youth Livestock Activities – Links to webinars and other online learning for youth interested in animals.
a.  https://fyi.extension.wisc.edu/youthlivestock/covid-19/
All of these items would be great for educational points or credit for fairs; of course these are all great opportunities for youth to gain educational experiences.
For more information go to the Wisconsin Youth Livestock Program Website for many more resources.  https://fyi.extension.wisc.edu/youthlivestock/
Please follow us on YouTube (many livestock judging and other videos), Facebook, Instagram and Twitter.  Links are on the website.
Please stay tuned as all of the information will be shared here as it becomes available.
This page will continuously be updated with information as it becomes available to us.