---
YQCA
The link provided will bring you to the Youth for the Quality Care of Animals webpage where you can complete your training.
www.yqca.org
All Polk County Quality meats participants must complete the YQCA online training in the current year to be eligible for the 2021 Quality Meats Program auction. Exhibitors are also required to participate in one other online or in person educational training for animal programs. This training does not need to be species specific. Please click on the link in the right hand box to be directed to the YQCA webpage
---
COVID-19 Animal Project Information
The Polk County Fair Board would like to invite you back to the Fair!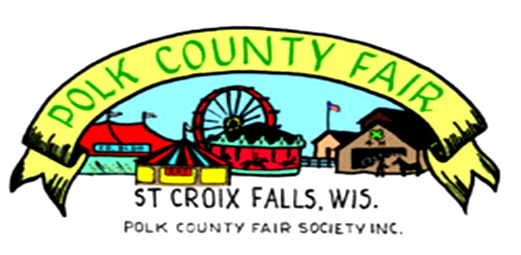 We are proud to announce the return of the Polk County Fair in 2021 to the Fair Park in St. Croix Falls. While the decision to cancel the fair last year was difficult, the decision to move forward with the fair this year has been equally challenging.  There will be, undoubtedly, many obstacles to overcome, and some things may not look or feel like they have in the past, but, we are committed to keeping our attendees as safe and healthy as we can.  We will be working with partners at the National, State, and Local, levels to ensure that we are incorporating as many Best Practices as possible. We are also just as committed to ensuring that everyone who attends our fair has a good time! In fact, our mascot this year Gertrude the GOAT, promises that you will have the Greatest Of All Time… (and everyone knows that goats don't lie…)
Not all of the details have been worked out yet, so continue to check back in with our website, www.polkcountyfair.com.  As we finalize plans, we will update the website as soon as we can so that you can continue to make plans as well. You may want to check our Facebook page as well.
We hope that you will plan to join us at the Fair July 29th through August 1st 2021. We also ask for your patience and understanding as we navigate the way forward.  We hope that we can continue to count on your support just as we have for the last 130 years. We look forward to seeing you there!
~Polk County Fair Society along with the Polk County Fair Board
Section 8 ~ Other Resources
For any other information on Quality Meats please see the Clover Connection Newsletter. The newsletter will list upcoming dates and times of meeting and form deadlines.
Youth wishing to participate in the 2021 Polk County Quality Meats Program must meet all the program requirements:
Quality Meats Requirements

Complete YQCA "Youth for the Quality Care of Animals" online classroom training. Club organizational leaders and co-leaders have more information on YQCA.
Attend a Polk County Quality Meats Kick-Off Meeting
Attend an educational event or sessions

 2021 YQCA – Youth for the Quality Care of Animals (Formerly MAQA)

ALL Quality Meats Exhibitors must bring their printed certificate to paperwork check-in Wednesday at the Fair in the livestock show barn office. check-in concludes at 6pm.
Required on-line course go to yqca.org  and follow directions to register and take course – cost is $12.
Classroom training is available at a cost of $3 at various locations in other counties. Register for these classroom courses at yqca.org
Questions can be directed to your species chair or vice chair.
Instructions on Getting Your YQCA WebBased Certification 
The Polk County Quality Meats kick-off meeting will be announced in the Clover Connection, your email as well as on this website so stay tuned.
---
Livestock Members: From Bernie O' Rourke
Virtual farm tours are now complete, but you may find the videos at the links below:
The playlist of all of the videos on YouTube.
https://www.youtube.com/playlist?list=PLl3EqGUag9cz_1DCKOLL5KSMtwm1SyuKT
These are for kids that are engaged in animals, plants (agronomy) and science STEM. 
Small Ruminant Webinars – Sheep and Goats
a.  https://fyi.extension.wisc.edu/wisheepandgoat/small-ruminant-webinar-series/
b.  May 20, 7:30-9 p.m., Estimated Breeding Values
Youth Livestock Activities – Links to webinars and other online learning for youth interested in animals.
a.  https://fyi.extension.wisc.edu/youthlivestock/covid-19/
All of these items would be great for educational points or credit for fairs; of course these are all great opportunities for youth to gain educational experiences.
For more information go to the Wisconsin Youth Livestock Program Website for many more resources.  https://fyi.extension.wisc.edu/youthlivestock/
Please follow us on YouTube (many livestock judging and other videos), Facebook, Instagram and Twitter.  Links are on the website.
Please stay tuned as all of the information will be shared here as it becomes available.
This page will continuously be updated with information as it becomes available to us.