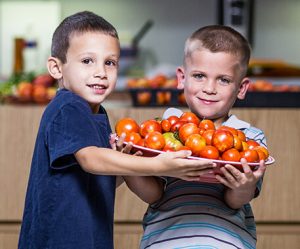 The 4-H foods revue is a fun way to develop your cooking skills and understanding of foods. The foods revue is a pre-fair event, which means that it counts as a fair entry, even though all the work is done before the fair. Entry choices will be listed in the fair premium book under Department 25J, Foods and Nutrition. A picture will be taken of your exhibit and put on display during the Fair. You will receive a premium payment based on your ribbon placing at the revue.
---
Recipe Challenge!
Recipes will be added each week for members to complete. When you complete the challenge, be sure to email in a picture of the finished product to Chuck (charles.prissel@wisc.edu) or Eileen (eileen.vandyk@wisc.edu) to have it posted up here on the website!
Week One

Easy Baked Rhubarb Dessert
This is a very tasty and attractive dessert. It's great served warm with ice cream.
TOTAL TIME: Prep: 10 min. Bake: 1 hour YIELD: 16-20 servings.
Ingredients
4 cups sliced fresh or frozen rhubarb
1 package (3 ounces) raspberry gelatin
1/3 cup sugar
1 package yellow or white cake mix (regular size)
1 cup water (or milk)
1/3 cup butter, melted
Ice cream, optional
Directions
1. Place rhubarb in a greased 13-in. x 9-in. baking dish. Sprinkle with the dry gelatin powder, sugar and cake mix. Pour water evenly over dry ingredients; drizzle with butter.
2. Bake at 350° for 1 hour or until rhubarb is tender. Serve with ice cream if desired.
© 2020 RDA Enthusiast Brands, LLC
Pink Rhubarb Punch
Rhubarb is the featured ingredient in this blush-colored punch. A friend passed the recipe on to me, and we enjoy it so much that I thought others might, too. —Rebecca Mininger, Jeromesville, Ohio

TOTAL TIME: Prep: 30 min. + chilling YIELD: about 5 quarts.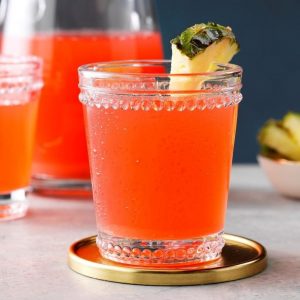 Ingredients
8 cups chopped fresh or frozen rhubarb
8 cups water
2-1/2 cups sugar
2 tablespoons strawberry gelatin powder
2 cups boiling water
2 cups pineapple juice
1/4 cup lemon juice
6 cups ginger ale, chilled
Optional: Fresh pineapple wedges, sliced strawberries and sliced lemons
Directions
1. In a Dutch oven, bring rhubarb and water to a boil. Reduce heat; simmer, uncovered, for 10 minutes. Drain, reserving liquid (save rhubarb for another use).
2. In a large bowl, dissolve sugar and gelatin powder in boiling water. Stir in pineapple and lemon juices. Stir in rhubarb liquid; refrigerate until chilled.
3. Just before serving, pour into a punch bowl and stir in ginger ale. If desired, garnish with fruit.