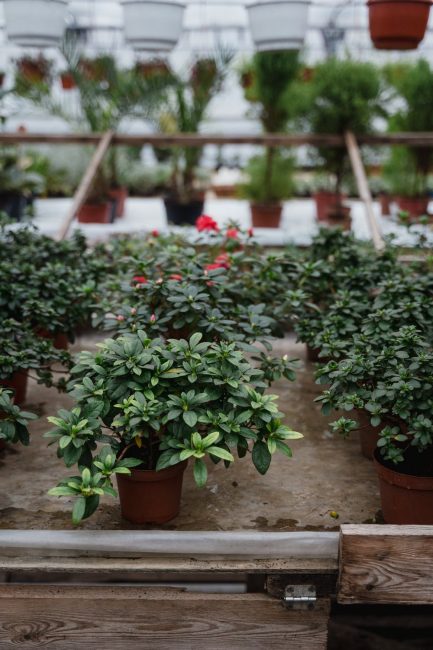 All gardens take work.  And some take more than others.  One way to lower the maintenance in your yard is to avoid plants that require frequent dividing and regular staking.  The following are perennials that may never need dividing.  Many grow to shrub-size, so the impact is large-especially compared to the attention required.
These perennials actually resent disturbance:
Monkshood (Aconitum Napellus) – This perennial stands four feet tall and bears blue-purple hooded flowers in late summer.  It prefers partial shade.  All parts are poisonous, so it's a good choice where deer are a problem.
False Indigo (Baptisia australis) – A member of the pea family, this native perennial grows to four feet high and wide with indigo-blue flower spikes.  It is drought tolerant.  Attractive seedpods turn black.
Columbine (Aquilegia hybrids) – A short-lived perennial, it blooms in late spring.  It comes in a variety of colors and bicolors.  The native Aquilegia canadensis has orange-red and yellow blooms and grows the largest.
Gas Plant (Dictamnus albus) – Pink or white flower spikes in early summer mature to star-shaped seedheads.  This long-lived tough plant requires little care.
Cushion spurge (Euphorbia polychrome) – Yellow bracts in spring provide good contrast.  Shear the plant by one-third after flowering to prevent heavy seeding.  This plant tolerates drought and poor soil.
Lenten rose (Helleborus orientalis) – Has dark, evergreen, palmate leaves and rose, cream or speckled flowers in early spring.  It prefers part shade and rich, well drained soil.
Rose mallow (Hibiscus moscheutos) – This perennial can grow three to eight feet tall with large eye-catching red, white, pink or bicolored flowers.  Each lasts only a day in mid to late summer.
Hosta – Hundreds of varieties are available, varying in size from three inches to six feet wide.  These shade lovers provide good contrast with solid or variegated foliage in greens, blue-green and gold.
Russian Sage (Perovskia atriplicifolia) – Spikes of lavender flowers rise from fine, gray leaves on sturdy plants that grow three to four feet high and wide.  It blooms a long time in full sun and is drought tolerant.
Jacob's ladder (Polemonium caeruleum) – This plant grows up to two feet with pretty blue flowers in early summer.  Cut back if reseeding is not desired.  It likes partial shade and rich, moist soil.
Pasque flower (Pulsatilla vulgaris) – A native prairie plant with fine, green leaves, it grows about one foot tall and wide.  Cupped purple flowers appear in may and mature to fantastic, fluffy seedheads.
Wood Poppy (Stylophorum diphyllum) – Bright yellow popy-like flowers bloom in late spring on plants that grow to two feet.  Silver undersides of green leaves and silvery seed capsules add interest.  Deadhead if seeding is not desired.  Foliage may need to be cut back as it fades.
These perennials have tough, woody roots or taproot, best left undisturbed:
  Goats beard (Aruncus dioicus) – This shade-tolerant plant grows four to six feet tall and wide with plume-loke creamy flowers in early summer.  It is similar to astilbe.
Butterfly weed (Asclepias tuberosa) – Deadheading the orange flowers in summer encourages re-blooming about a month later.  Remove fruit before it splits if seeding is not desired.  This native prairie plant tolerates poor, dry soil.
Bugbane (Cimicifuga racemosa) – Ferny leaves bear spikes of white bottlebrush-shape flowers in mid-summer that bees love.  The hardy perennial grows four to six feet tall in partial shade.
Globe Thistle (Echinops ritro) – Round, silvery-blue flowerheads in mid-summer appear on rough, spiny leaves.  The seedheads are attractive to birds.  This hardy, pest-resisitant plant is drought tolerant.
Sea holly (Eryngium planum) – Spiny, silvery-blue bracts emerge from basal foliage and remain attractive for a long period.  It thrives in dry, sandy soil and full sun.
Baby's breath (Gypsophila paniculata) – Tiny white or pink flowers grow in airy clusters from blue-gray leaves.  The plant grows three feet tall and white in full sun.  Deadheading through summer produces more flowers.
Balloon flower (Platycodon grandiflorus) – Blue, pink or white inflated flower buds pop open to star-shaped blooms in mid-summer.  Deadheading spent flowers prolongs the bloom.  The plants grow two to three feet tall.
In addition, these perennials may need to be divided, but only every six to 10 years:
  For sun – Catmint, geranium, globeflower, lady's mantle, meadow rue, oriental poppy, salvia, sedum 'Autumn Joy', verbascum and willow amsonia.
  For shade – Brunnera macrophylla, epimedium rubrum, European wild ginger, ligularia dentata, lungwort, toad lily and variegated Solomon's seal.
By: Nick Schultz, PCMGV